Yesterday was Valentine's Day, and that means love, romance…and proposals! So, for everyone who woke up this morning with a wedding in their future (or their family's future), we've got a fun and easy project for you  – a DIY wedding frame!
This wedding frame is multi-purpose – it can serve as a wedding or shower decoration, and then transition to home decor as a treasured memory after the big day is over.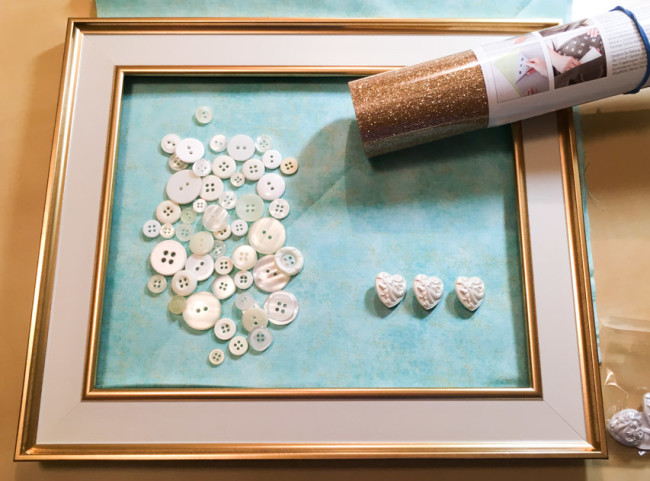 The first step in this project is to select a color scheme. This project is built around a fabric background, which can really be any color. I've chosen a beautiful aqua, but the wedding's theme color or a color from the bride's home decor might both be excellent choices.
The gold iron-on material matches both the frame and a fleck that is in the fabric. Our Haberdashery button pack is variegated between cream and white, so no matter what color of wedding dress the bride chooses, the collage will work.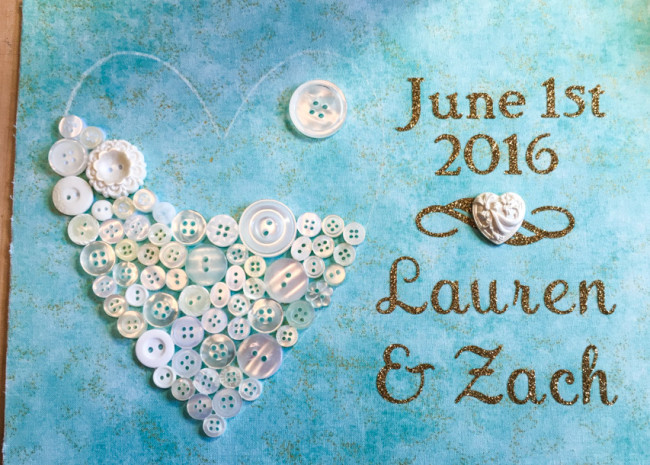 Use a fabric pencil to sketch out the area for the heart.
Measure the remaining area and create the text and other elements on your die cut machine. Cut from glitter iron-on material, and iron on to fabric following manufacturer's instructions.
For the fabric to stand up to holding the collage of buttons in the frame, it needs to be stiffened. I used Krylon Spray Adhesive to laminate the fabric to a sheet of white chipboard as a backing.
Using white glue (I used PPA Matte by ArtQuest), adhere white buttons from the Button Basics and Haberdashery packages. Continue until the entire heart is filled. I ensured that the largest ones were spread around in a balanced fashion by laying them down first and then building around them.
Finish by removing the stem from a heart button, and gluing the heart on top of the glitter flourish.
Remove the glass from the frame, and place the cardboard sheet in place!
And now your beautiful memory of a special day is ready to enjoy!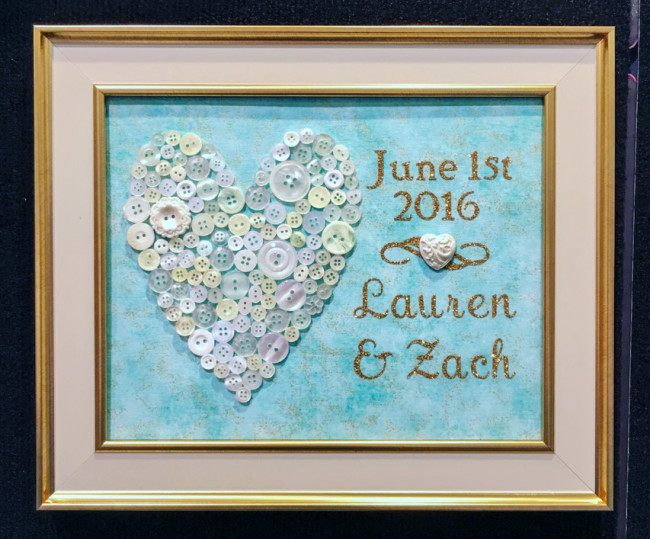 Supplies:
Frame
8″ x 10″ chipboard
Deborah Edwards of Northcott fabric
Cricut Explore Machine
Cricut Iron On Glitter material
Artquest PPA Matte Adhesive
Krylon Spray Adhesive
Congratulations to all the newly engaged couples out there, and we look forward to seeing you make our DIY wedding frame!
The following two tabs change content below.
Nancy Nally
Nancy Nally is the social media manager of Buttons Galore, and the owner of Nally Studios LLC., which publishes ScrapbookUpdate.com and CraftCritique.com.
Latest posts by Nancy Nally (see all)