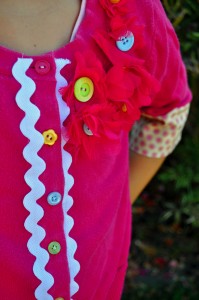 Make an upcycled sweater for a Boutique Style
My daughter and I have champagne taste and apple juice budget so I decided to make an upcycled sweater to get a boutique style look at a fraction of the cost. I've been busy doing our annual back to school shopping.   We saw a ton of button embellishments on the clothes in all the children's boutique clothing stores this year, so when we got home, I got out my buttons and an old sweater and got to work.  The sweater was cute last year, but the sleeves are too short for my growing daughter and the flowers on the shoulder were looking a little tired.  The end of the sleeves were also stained.  (Why oh why can't my daughter pull up her sleeves before eating or crafting?)  It hardly cost me anything to make as I already has some ric rac and I used fabric scraps for the sleeves.
The  sweater before: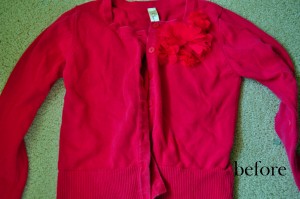 And here is the upcycled sweater!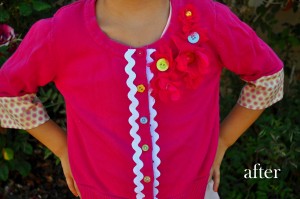 Did I inspire you?  Here's how you can upcycle a sweater!
Supplies for an upcycled  sweater:
Old sweater
Buttons. I used my favorite Buttons Galore Mix, Citrus Splash.
Ric Rac
Fabric
Basic sewing supplies.
Directions:
Put the sweater on your child and mark where elbows are located.  Take off the sweater, and cut off the sleeves at the elbow mark.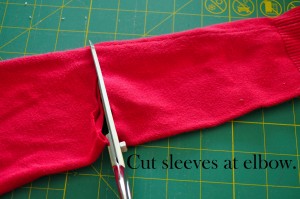 Remove the original buttons.
Measure the sleeve width, and double the measurement but a strip of fabric that measures the length of your measurement and a 6″ width.  For example, my daughters sweater sleeve measured 5″, so my fabric strips measured 10″ x 6″. Cut two strips, one for each sleeve.
Fold the fabric strip in half lengthwise, wrong sides together.  Press.
Fold the fabric again, bringing the short sides together.  Stitch together.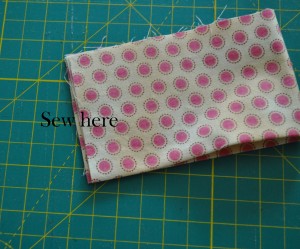 Slip the fabric strip over the sleeve.  Line up the seam you just sewed with the underarm seam of the sleeve.  Make sure the rough edges of the sleeve are aligned with the edge of the sleeve. Pin in place. Sew.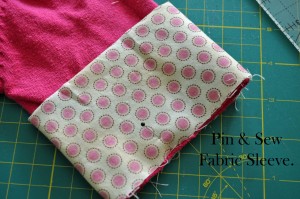 Fold the fabric sleeve down.
Sew ric rac along the side where the buttons are and along the side of the button holes.  Make sure you leave room for the buttons and that you do not cover the button holes!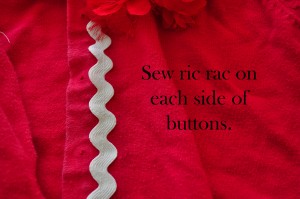 That's it!  Easy.  It took me less than an hour to do this upcycled sweater project.  If you aren't feeling adventurous, simply changing out the buttons on an old sweater will give it a new look.  Or if you are feeling extra adventurous, you could add some fabric to the bottom edge of the sweater.  (Which also lengthens it if the sweater is too short for your child!)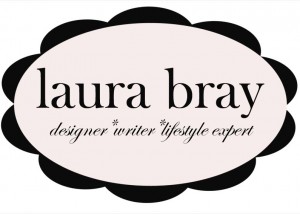 The following two tabs change content below.
Laura Bray is a designer, writer and lifestyle expert. She inspires creative women to live a life of balance & simplicity by sharing her modern twist on traditional home arts. You can visit her on her blog at www.katydiddys.blogspot.com
Latest posts by Laura Bray (see all)