As summer vacation winds down, why not make a craft with the kids that will help them display their favorite summer memories? This giant clothes pin photo holder is fun and easy to make with only a few supplies!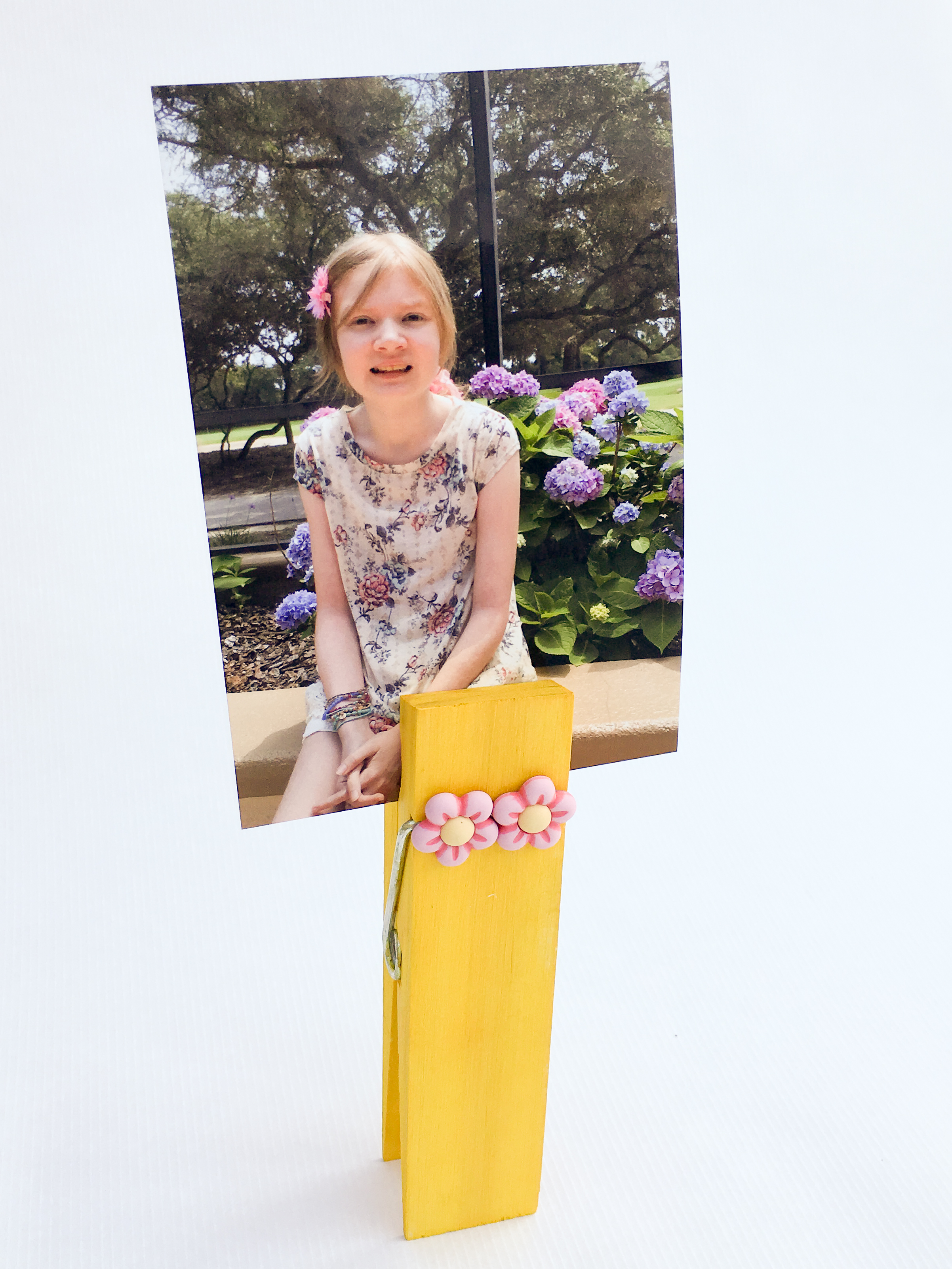 Supplies Needed:
Giant Clothes Pin (available at most craft stores)
Acrylic Paint or Wood Tint
Button Shank Remover (or scissors)
To get started, paint your giant clothes pin (mine is about 6″ tall) with water-based acrylic paint or wood tint. I used Plaid Ultra Dye in "Pucker Up". Using a wood tint or stain is easiest, since it will wipe easily off of the metal parts of the clothes pin. Acrylic paint will also wipe off of the metal while it is still wet, but not quite as easily.
The next step is to decide on the buttons that you would like to use to place across the front of the clothes pin. If you choose buttons with shanks like I did, you'll need to remove the shanks. I prefer using a Button Shank Remover for safety and because it leaves behind a more flat back on the button.
The next step requires the use of hot glue, so to be safe, make sure you help out younger kids. Place pea sized drops of hot glue on the spots where you want your buttons, and then push the buttons into place on top of them. (If you choose buttons that have holes in the center, beware of hot glue coming back up through the holes!)
And that's it…now your giant clothes pin photo holder is ready to enjoy with one of your favorite photos! As well as being a great summer kids' craft, this project would also make a great seasonal project to display memories of past holidays – just used holiday themed buttons!
The following two tabs change content below.
Nancy Nally
Nancy Nally is the social media manager of Buttons Galore, and the owner of Nally Studios LLC., which publishes ScrapbookUpdate.com and CraftCritique.com.
Latest posts by Nancy Nally (see all)