I'm always on the look-out for unique Easter basket ideas.  I have found that the easiest way to put together an Easter basket is to start with a theme and a basket with a button theme is sure make a sewer, or even a paper crafter,  hop up and down for joy. It's also a great way to use up all those plastic eggs you've been saving!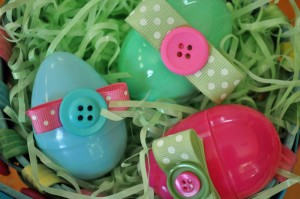 Supplies for Easter basket ideas:
Instructions for Easter basket ideas:
1. Glue buttons onto basket.  Add a fabric yo-yo, bird and other embellishments.  Fill the basket with grass
2. Glue ribbon bows and buttons onto plastic eggs.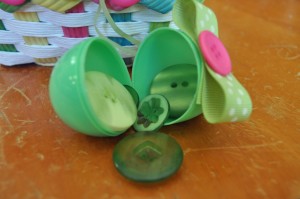 3. Fill eggs with buttons. I coordinated the color of the eggs with the buttons inside.  Tuck the eggs into the basket.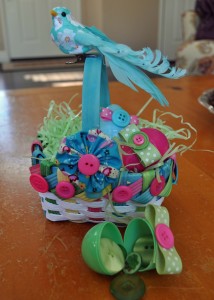 The following two tabs change content below.
Laura Bray is a designer, writer and lifestyle expert. She inspires creative women to live a life of balance & simplicity by sharing her modern twist on traditional home arts. You can visit her on her blog at www.katydiddys.blogspot.com
Latest posts by Laura Bray (see all)