Regular readers of the site may remember this delightful zip pouch that I made last fall during the Handmade Holidays blog hop. It is from a pattern called Everyday Zips by Joanna Figueroa of Fig Tree & Company, available online or at local quilt stores.
Making the pouch was so simple and fun that I decided to make another one for the trade show booths in January…this time in a spring color scheme, and with a few modifications. Because you can never have too many zip pouches, right?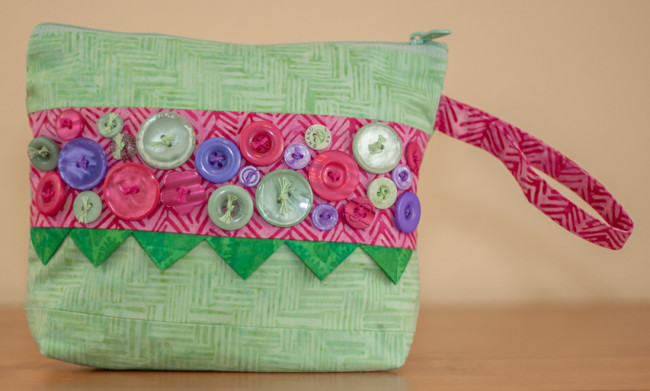 Supplies:
Everyday Zips pattern by Fig Tree Threads
Fabrics (fat quarter of each)

exterior body of bag
lining
contrast panel & handle
prairie points

 9″ minimum zipper for bag top
Embroidery Floss
For this version, I created a totally different look. Instead of vintage style neutrals, the new design used batik print quilt fabric in spring colors. The light green fabric was used for both the exterior body and for the lining. The bright pink contrast panel and the green prairie points create an impression of leaves surrounding flowers.
Instead of just a few button accents, the spring zip pouch has a whole collage of buttons decorating its front panel!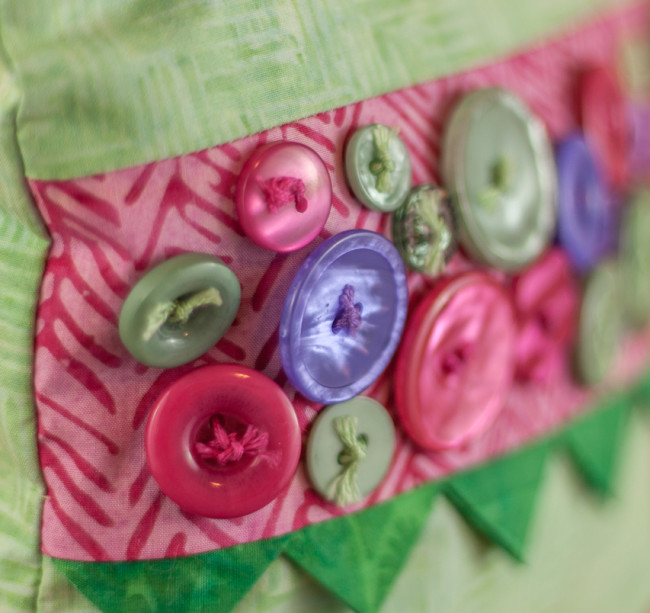 As well as adding buttons, I also took something away from the front of the pouch. You might have already noticed that the zipper pocket isn't on the front of the new design of the pouch. Removing it simplified the sewing of the pouch and made room for the large decorative button collage.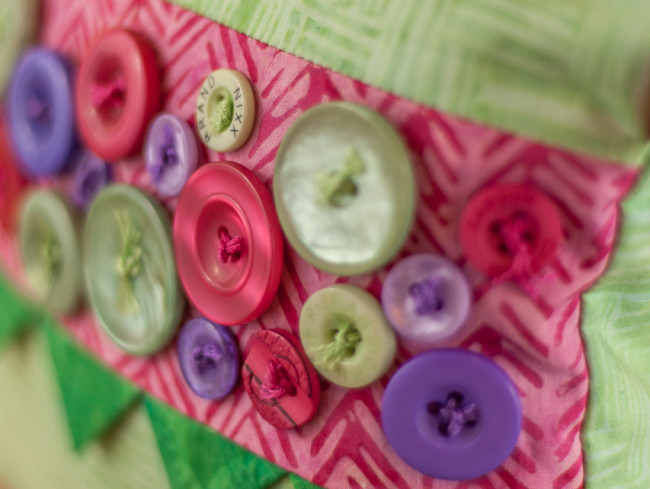 Making the change to remove the zipper from the panel was easy. I measured what each of the three pattern pieces for this panel would be in height after the seam allowances were removed. Then I added those three numbers together, added the seam allowance to the top and bottom of it.  That gave me the new height I needed to cut my panel to. (The width is provided by the pieces for above and below the zipper.) Using those dimensions, I created the new pattern piece. The piece I ended up cutting was 3″ by 9.5″. I then simply skipped the steps in the pattern dealing with installing the pocket zipper and the pocket lining.
Zip pouches make great gifts for Mother's Day, birthdays, and teacher appreciation! What occasion do you have coming up that a fun zip pouch gift would be perfect for?