Want to make a summertime picture frame for your home? Here's a simple frame embellished with a handmade Sunflower, garden sign and a Haberdashery Carved Wood button.
You could choose any flower to embellish your frame but a Summertime Sunflower really does make a beautiful impact.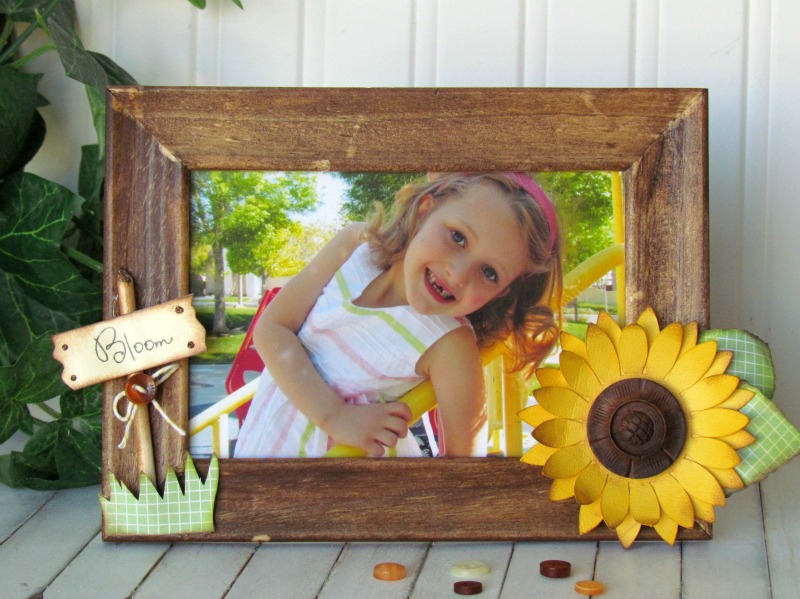 Summertime Picture Frame
I always enjoy seeing  the Sunflower fields as we drive across country during our vacation.   They really are a beautiful sight.   One day,  I'll convince my hubs to actually stop along the interstate to take a photo in the field.   He just can't appreciate a purty photo op.  Men.
To make the Sunflower picture frame:
I used my Silhouette and a Lori Whitlock cut file to cut out the  3D Sunflower then inked the edges of the leaves and flower with Colorbox ink and added a unique  Haberdashery carved wood button  to the center.   It really is the perfect center for a Sunflower!
I'm totally in  love with all the  Haberdashery Wood Buttons you can find in The Button Shop too.   They're all so unique in design.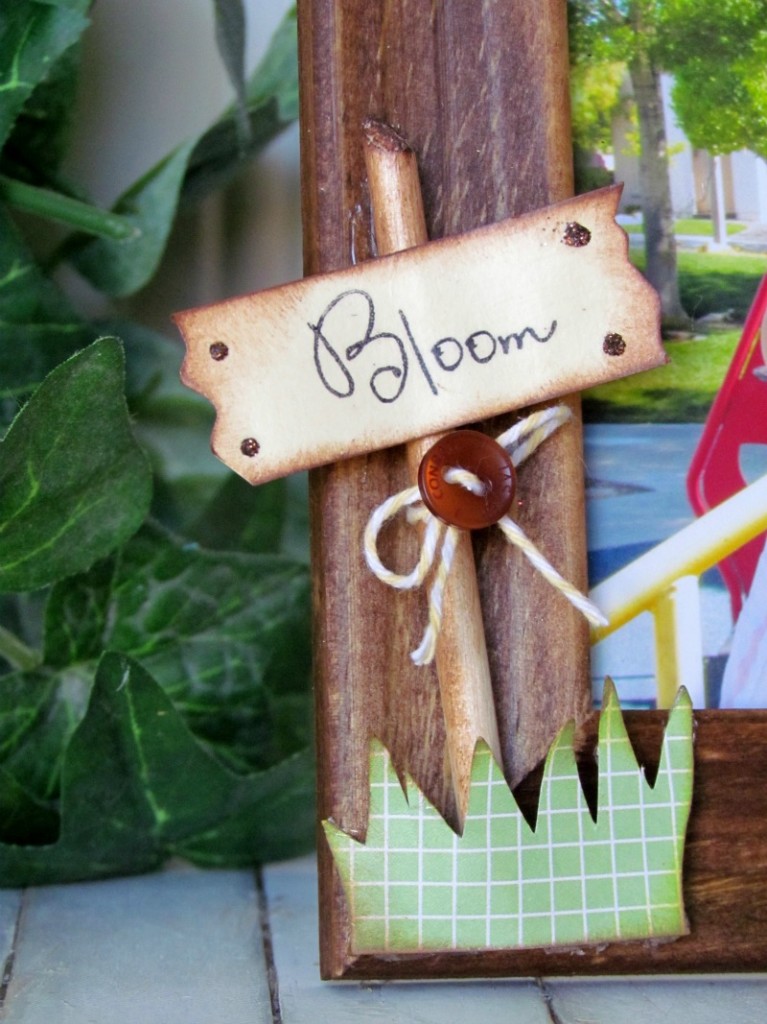 On the other side of the frame, I hand cut out a garden sign and grass, stamped a sentiment and hot glued the grassy sign onto a dowel.  A perfect Summertime frame to display Summer memories in.
Supplies Used For Sunflower Picture Frame:
Dollar Store Picture Frame

Cute Photo of Daughter (optional)
Wood Stain
Die Cutting Machine
Wood Dowel
Stamp Sentiment
Stickles Glitter Glue
Yellow Twine
Hot Glue and Gun by AdTech
 Like Me on Facebook!
The following two tabs change content below.
I love the smell of pretty paper, drinking Chai Tea and making unique things out of whatever I can find. I'm a dollar store junkie who loves to design with Kraft paper, textures, burlap, inks, ribbons, buttons, glitter and anything that can be up-cycled. I'm excited to be a part of this Buttons Galore & More Design team. I hope my ideas inspire you.
Latest posts by Holly Gagnon (see all)