My family hikes or goes for a bike ride every weekend and, inevitably, we always return home with a leaf, feather, or pine cone.  The natural bits and bobs were piling up on the table, so I decided to create a nature mobile.  I love how we can now display our finds in a piece of artwork and nothing is glued down, so we can change it out whenever we want.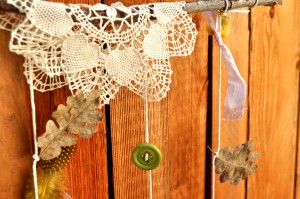 Supplies:
Buttons from the Autumn Grab Bag
Twine
Twig
Doily
Leaves, acorn caps, feathers, anything you find outside that inspires you!
Torn pieces of muslin fabric dyed with Rit Dye in Tan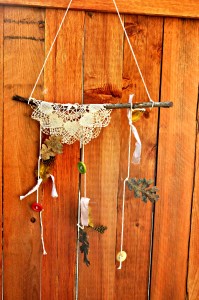 Instructions:
Cut a piece of twine to about 16 inches in length.  Tie each end of the twine to the ends of your twig. Put aside.
Cut pieces of twine to the length you like.  I love to cut mine and varying lengths to give the piece interest.
Begin by threading buttons onto your twine.  I found that wrapping a piece of tape around the end of the twine makes it easier to push through the button holes.  Once the button is threaded onto the twine, move it along the twine to where you want it to hang.  Make a knot below the button to hold it in place.
Tie feathers and leaves onto the twine.
Tie torn pieces of dyed muslin onto twine.
Once you are happy with the placement of your materials, tie one end of the twine to the twig.
Repeat the process with at least two more lengths of twine.
Once all the twine is attached to the twig, drape a doily over the twig.
Hang on a wall, a tree outside, or even your ceiling.
Thanks for stopping by today.  Find out how to make another nature display on my blog, Laura Bray Designs.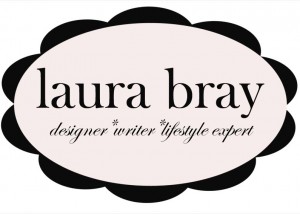 The following two tabs change content below.
Laura Bray is a designer, writer and lifestyle expert. She inspires creative women to live a life of balance & simplicity by sharing her modern twist on traditional home arts. You can visit her on her blog at www.katydiddys.blogspot.com
Latest posts by Laura Bray (see all)