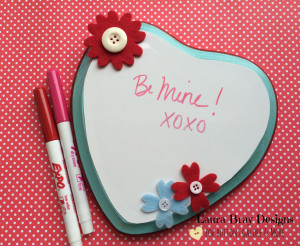 Here's a sweet little Valentine's Day project for you! A Sweetheart Message Board, created with dry erase paper and buttons. Leave a new, loving message to your sweetheart every day!
Supplies:
Wood, heart-shaped plaque
Paint
Dry erase paper
Felt flowers
Craft glue
Instructions:
Paint the wood plaque. Allow to dry completely.
Once the paint is dry, trace the heart shape onto a piece of dry erase paper and glue it onto the front of the plaque.
Embellish the plaque with felt flowers with button centers.
Hang the plaque with a ribbon and leave messages of love for your sweetheart.
The following two tabs change content below.
Laura Bray is a designer, writer and lifestyle expert. She inspires creative women to live a life of balance & simplicity by sharing her modern twist on traditional home arts. You can visit her on her blog at www.katydiddys.blogspot.com
Latest posts by Laura Bray (see all)