Hello Everyone! This is Katie from the Buttons Galore & More Design Team and today I have a fun wedding decor idea!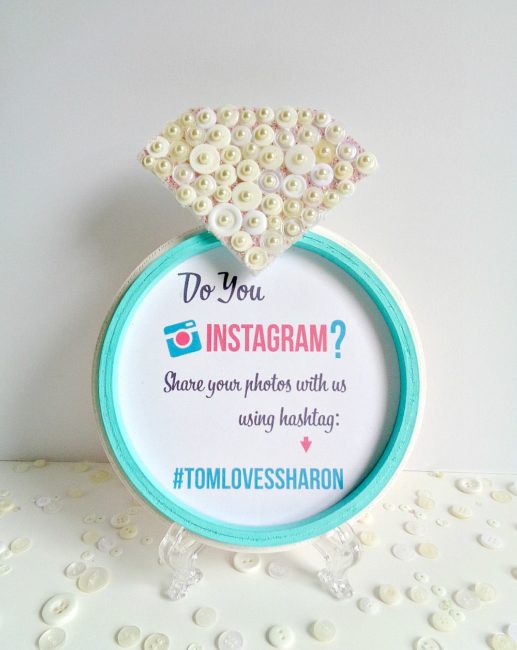 When I was given the task to make a wedding decor project, I wanted to create something that was cute, useful, and that could be saved in the long-run. With that in mind, I decided to create a diamond ring frame that could be customized to fit your wedding decor, be useful (since it's a frame), and be saved by the bride. In addition, this project is super inexpensive to make because it's made from a wooden plaque, an embroidery hoop, and a piece of foam board!
To decorate the diamond part of the ring, I decided to use the 28 Lilac Lane Embellishment Bottle in Winter Wonderland. Even though "winter wonderland" sounds wintry, this embellishment bottle could easily be used for wedding décor as well because the embellishment bottle contains several shades of white/cream colored buttons, along with seed beads and flat back half pearls. The flat back half pearls (in my opinion) really make this embellishment bottle perfect for wedding projects!
So, to find out how to make your own Diamond Ring Frame, keep reading below!
Supplies needed:
wooden plaque (I used a 6 ½ inch plaque)
embroidery hoop (I used a 6-inch hoop)
DecoArt Americana Acrylic Paint: Snow (Titanium) White
DecoArt Americana Acrylic Paint: Sweet Mint
foam brushes
foam board
craft knife
Xyron 9'' Creative Station (optional)
decoupage glue
hot glue gun
picture or image you want to use in your frame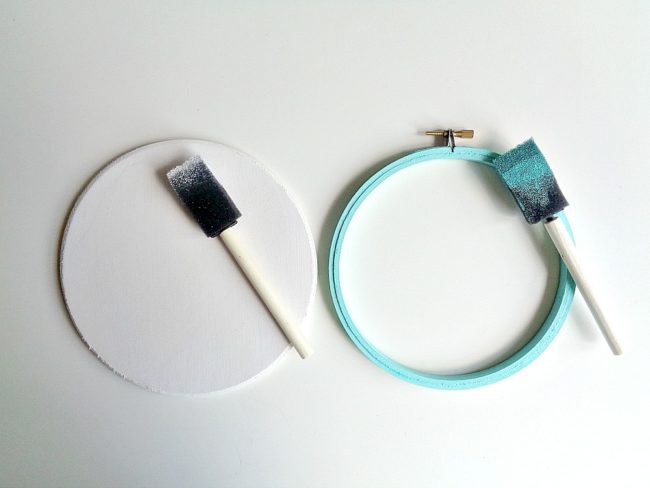 Step 1: Paint your wooden plaque white and your embroidery hoop mint. Then set both items aside to dry.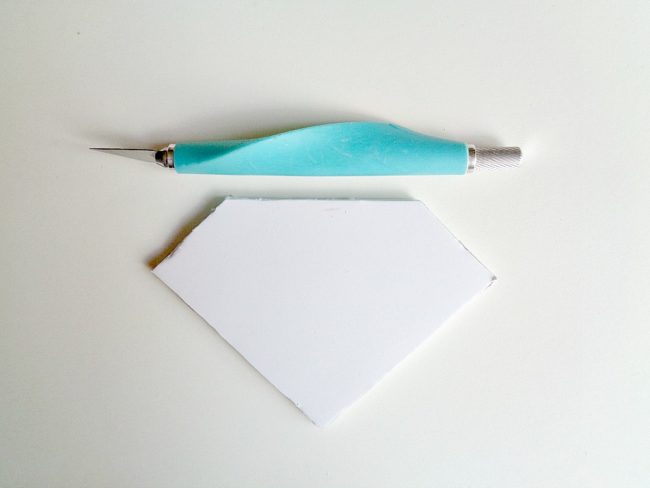 Step 2: Grab your foam board and cut out a diamond shape. The diamond I cut out for my 6-inch embroidery hoop was 5 inches by 3 ½ inches.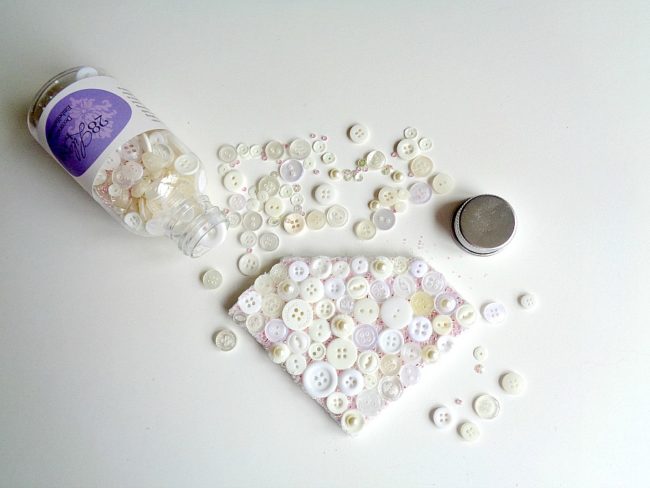 Step 3: Grab your 28 Lilac Lane Embellishment Bottle in Winter Wonderland and start decorating your diamond cut out. To do this, simply brush on a layer of decoupage glue onto your diamond cut out and begin arranging your buttons. While doing this, I also sprinkled on seed beads to fill in the gaps between the buttons. Finally, as an extra touch, I glued on a flat back half pearl to each of the buttons.
Once your diamond has been decorated, set the whole thing aside to dry.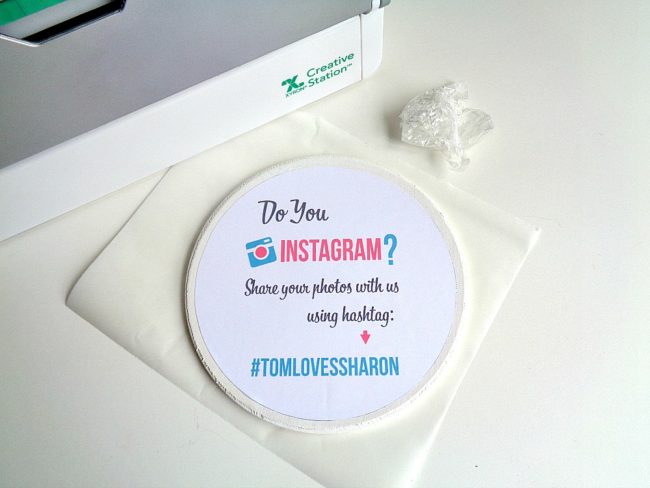 Step 4: Take your picture, sign, or image that you want to use for your frame and cut it down to size to fit on the inside of your embroidery hoop. Then take that image and run it through your Xyron 9" Creative Station. Once you have run your image through the Xyron Creative Station, rub the top of the sticker paper. Finally, peel the image off the sticker paper and adhere it to your wooden plaque.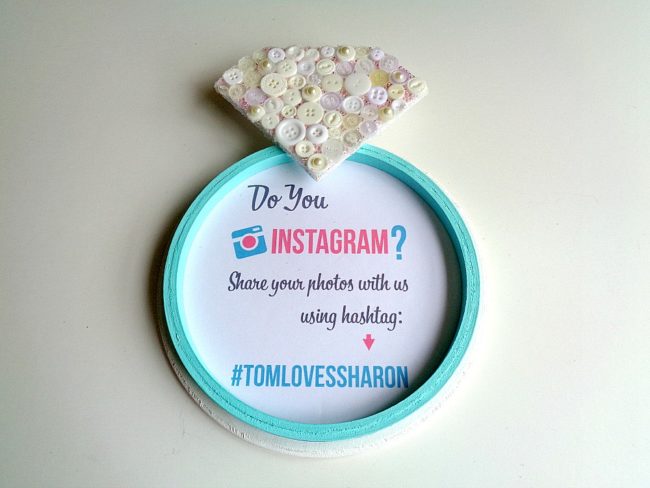 Step 5: Using a hot glue gun, glue on your embroidery hoop to your main wooden plaque and then glue your diamond on top of the embroidery hoop.
Once all your pieces have been glued on, you're ready to display your new Diamond Ring Frame!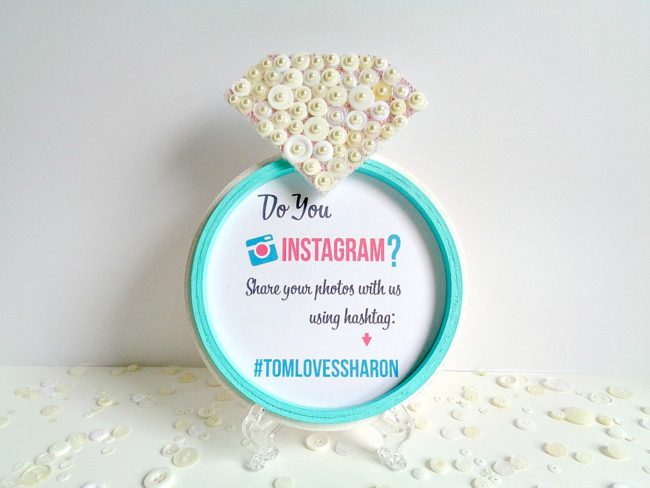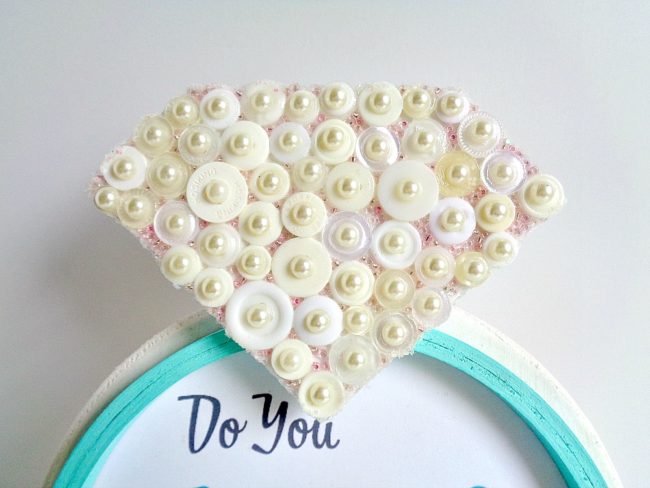 As you can see, I used my Diamond Ring Frame to hold a sign about taking Instagram photos during the wedding. However, this frame could be made to hold a variety of things. For example, the frame could hold photos, it could direct the guests to do something (like signing a guest book), or simply be used to display a favorite quote. Along those same lines, this Diamond Ring Frame does not have to be used at the wedding. It could also be used as a decoration for the bridal shower or bachelorette party instead!
What 28 Lilac Lane items would you use for your wedding or shower decor?
The following two tabs change content below.
Katie King is a DIY blogger, who believes that crafting should be simple, fun, and unique! She started her blog, Running with a Glue Gun, in order to share her DIY projects and to meet other people who loved to craft! On Running with a Glue Gun she shares DIY tutorials, writes craft product reviews, and shares crafting tips. Her overall goal is to spread the word that you don't need a ton of money to create an awesome, one-of-kind project!
Latest posts by Katie King (see all)