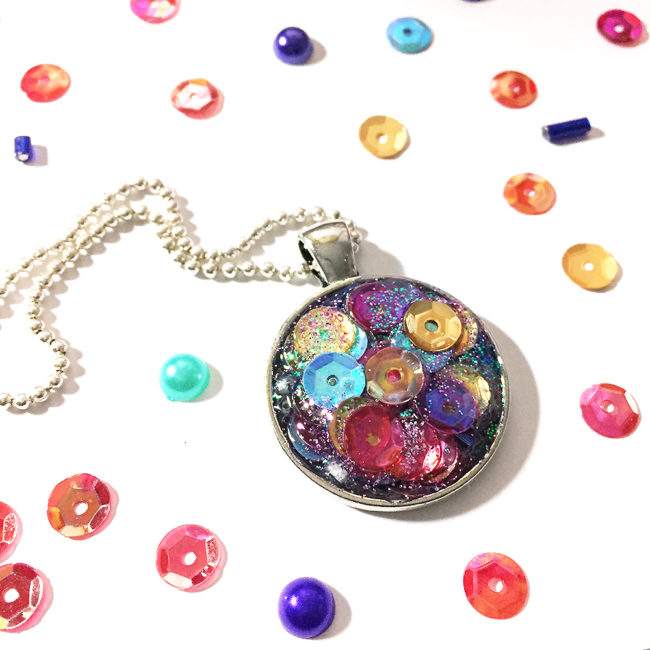 Who doesn't love an invite to good party? I know I do! When you walk through the door (fashionably late, of course) you can be the center of attention in this quick, easy to make sequin pendant necklace!
Supplies Needed for Sequin Pendant Necklace:
Mod Podge Dimensional Magic
pendant blank
necklace chain w/ clasps
glitter (optional)
pin or toothpick (to remove bubbles)
How to Make Sequin Pendant Necklace:
Begin by applying a thin layer of Dimensional Magic prior to filling the pendant with embellishments. Use a toothpick or straight pin to gently move the little pieces around. Make sure the contents are level with the rim of the pendant and everything is laying as flat as possible before covering with additional Dimensional Magic.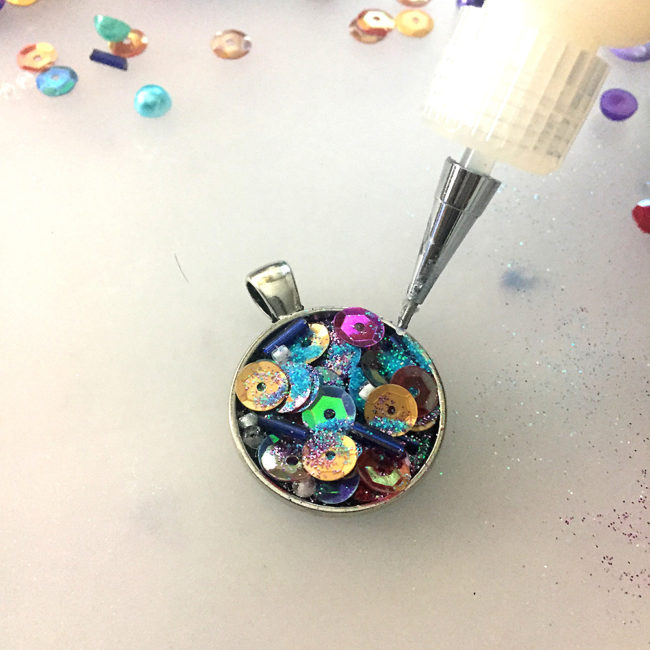 Add just a drop or 2 at a time, filling slowly to avoid creating bubbles. If you do get bubbles, be sure to remove them by pushing them away or popping them with your pin/toothpick. Use just enough liquid to cover the top of your embellishments.
Let the pendant sit for about 30-45 minutes for the surface to become tacky. Add just few more sequins to the top and then another thin layer of dimensional magic to cover them. The initial appearance will be cloudy but it clears up as it dries. Allow the pendant to dry completely for several hours. I let mine sit overnight.
I think you'll enjoy making these pendants as much as I do. They're addictive to create and they make great little gifts and party favors for friends.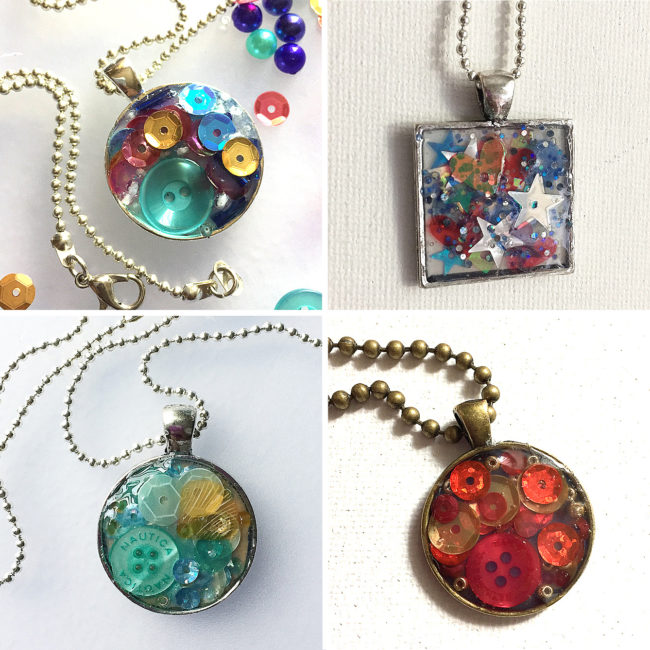 The following two tabs change content below.
Anaya enjoys designing jewelry, paper crafts, and home decor items embellished with colorful buttons. In 2007, she started YanaDesigns.com to share her love for fun projects and creative craft ideas.
Latest posts by Anaya Whye (see all)