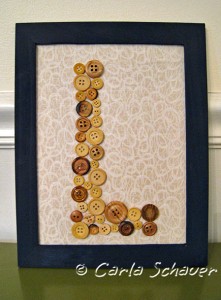 Add texture and detail to a simple framed monogram using a variety of wood buttons from the Haberdashery collection. These buttons are a gorgeous mix of natural wood colors, and I couldn't resist showcasing them in a project that let their beauty take center stage.
In order to play up the texture of the wood, I covered chipboard with neutral fabric to create a background that didn't compete with the wood buttons. The buttons were then arranged to make the monogram, and glued into place using fabric adhesive (Beacon Fabri-Tac). A simple inexpensive Ikea wood frame painted navy gives just enough color to draw the eye to the project.
On a wall or on a table, this monogram is a great way to easily personalize a room.
Thanks for stopping by!