It is summer and that means travel, trips to the parks and pools and more time than ever with our little kids.  Here is a project for a little tote bag to keep the crayons and drawing paper in for those outings.  Of course it could be used for sunscreen, chapstick and sunglasses too!  I got the tote bag at AC Moore but they can be found in lots of craft stores and online.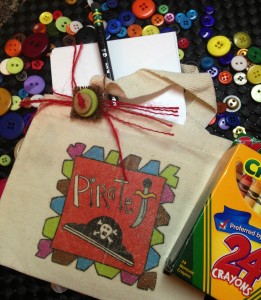 To make it, you will need a mini canvas tote bag (or you could use a big one and put lots of the pirate images all over it), iron on transfer paper for your printer, a few buttons (I used Laura Kelly Candy Apple Green and Coffee) and  and string of your liking.  You can download the pirate image for free right here!  Don't be surprised, there is a fun puzzle to in the download to keep them busy too!)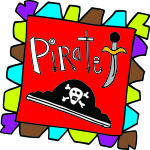 I used burlap and the strings that tear off when you cut it to attach my ribbons.  It works great with embroidery floss too!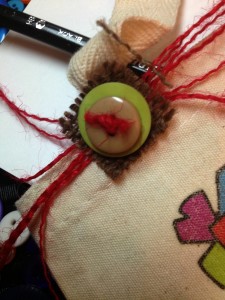 Happy Summer Mateys!  May you bag be ever filled with fun things to keep your kids busy and happy.  If you have a girl and she wants a girly version, there will be one on Monday on my blog!  Come visit me there too.
Have a great week,
Laura