I am in love with doilies.  Seriously, I think everything looks better with a doily.  And, as Spring and Summer approach, I've also got pinwheels on my mind.  So, when I was brainstorming some wedding ideas to share with you, I decided to combine my two loves.  Of course I threw in a button for good measure too!  These doily pinwheels would be great wedding favors or, if you want to give your wedding a whimsical touch, why not line the ceremony aisle with them? I can't imagine a better way to walk into life as a newlywed than between pinwheels.  After all, doesn't your groom make your heart spin?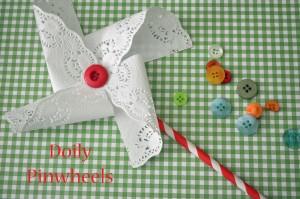 Supplies for Doily Pinwheels:
4 inch round paper doilies
Striped paper drinking straw

Instructions for Doily Pinwheels:
Fold the paper doily in half. Open it and fold it in half the other way. Open it up and lay it flat.
Cut along the fold marks, stopping 1″ from the center of the doily.
Take one corner of each cut edge and fold it towards the center of the doily.  Attach it with a dab of glue. Continue folding other three cuts.
Glue the pinwheel onto one end of the straw.
Glue a button into the center of the pinwheel.
Tip: Match the button and the stripes of the straw to your wedding colors.  If you can't find straws to match, use wood sticks and paint them to match!