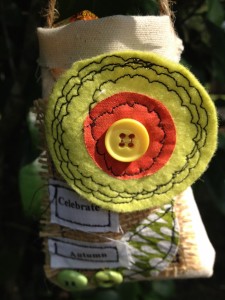 Its time to look forward to cooler days and falling leaves and all the rest of the great things that Autumn ushers in. As a transitional season, Autumn is one of my favorite seasons and it always inspires me to create something new. I love the rustic feel of Fall projects. Its so easy to use canvas, hemp, jute, wood and other natural materials to make something that looks and feels like Fall. That's why I decided to try my hand at creating these canvas favor bags.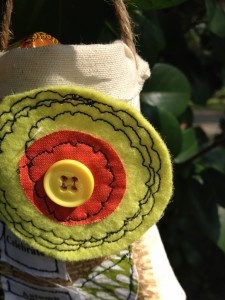 Inspired, I sat down with my fabric, wool felt scraps and buttons recently and decided to make a bunch of sewn fabric circles recently. Not really knowing what I was going to do with them, I have since used them to make wall art, pillows and now these little Autumn inspired canvas favor bags.
Materials used for Canvas Favor Bags:
1/8 yard of natural cotton canvas
Wool felt and fabric scraps
Inkjet cotton fabric
Burlap Scraps
Buttons Galore and More Laura Kelly Hand Dyed buttons
14″ hemp
Sizzix BigShot die cutting machine and Bigz Leaves Die
Rotary cutter and self healing cutting mat, scissors, sewing machine and thread, hand sewing needle and thread, heavy duty hole punch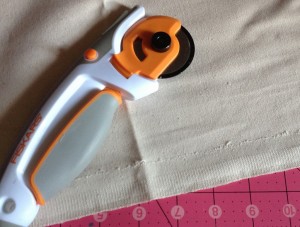 To make a canvas favor bag, cut two canvas rectangles that measure about 6″ x 8." Pin small scraps of burlap rectangles to the center of one of the canvas rectangles.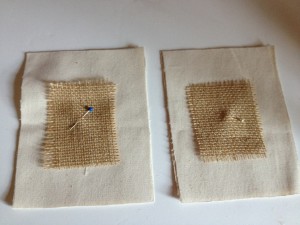 Use your sewing machine and thread to zig-zag stitch the burlap to the one of the canvas rectangles.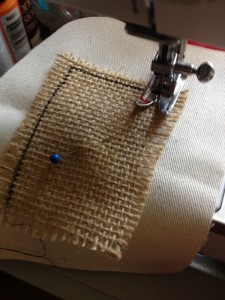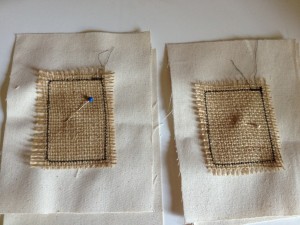 Add elements such as die cut leaves to your canvas favor bags. Fuse webbing to the back of a fabric scrap and die cut a leaf shape.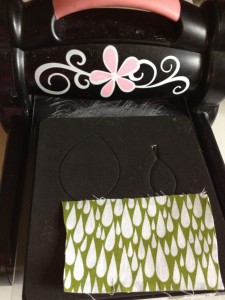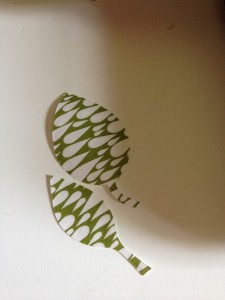 Peel away the paper backing and fuse the leaf shape to the canvas.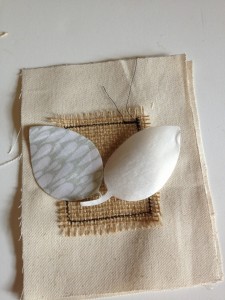 Machine stitch the leaf shape and inkjet fabric sentiments printed from your computer with a straight stitch.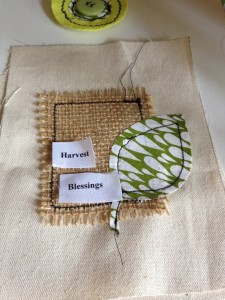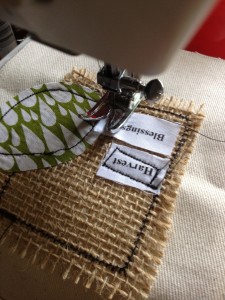 Now the real fun begins! Use hand dyed buttons from Buttons Galore and More to embellish your canvas favor bag. I used Laura Kelly's hand dyed buttons and one of my previously created fabric circles to embellish these canvas favor bags. Sew them on with a hand sewing needle and thread.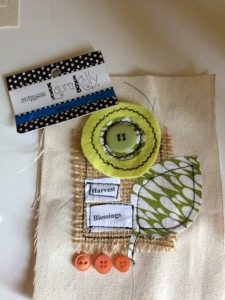 Place the canvas rectangles right sides together and machine stitch using a 1/2″ seam allowance. Leave the top of the canvas favor bag open and start sewing about 1 1/2″ down so you have material to create a top fold.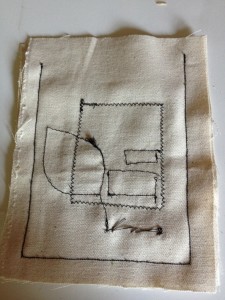 Use an iron on steam to steam the seams open.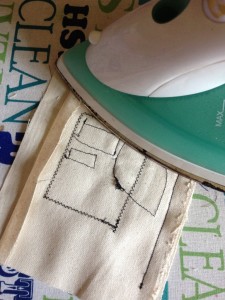 Turn the bag right sides out and fold the top down to create a cuff.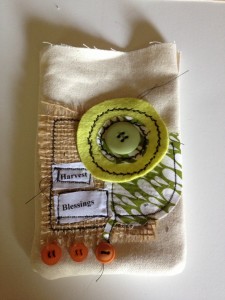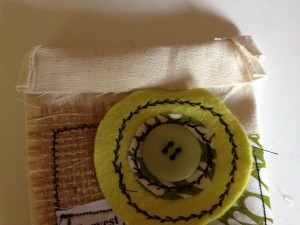 I created a simple handle by punching holes through the fabric layers using a heavy duty hole punch and inserting a piece of hemp through the holes.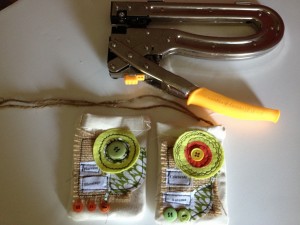 Fill your canvas favor bags with candy or other small treats. Surprise a neighbor by hanging on their front door for a nice Autumn surprise!
Live Life Creatively,