Hello, Pinky here with hand made Bridal Shower Invitations.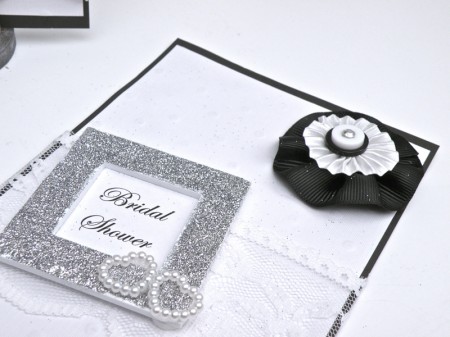 Step 1. Trim Black embossed cardstock to 4X6″ Trim white embossed cardstock to 3.75X5.75″. Layer onto each other.
Step 2. Blank Craft Shape Frames & Glitter It Glue, adhere ultra fine silver glitter to frame. Set aside to dry.
Step 3. Print up BRIDAL SHOWER to fit inside frames on plain white cardstock. Trim and adhere to frames.
Step 4. Adhere 2 LOVE buttons to frame (I used hot glue gun).
Step 5. Using Beacon Zip Dry, adhere white 2.5″ lace
Step 6. Adhere White Pleated Rosettes to corner of cards.
Step 7. Print invitation information (at 3X5″) and adhere to back.
These are going to add that perfect handmade touch to any wedding/bridal shower. It really expresses how much you care and will be a wonderful hit!