EEEK!  It's a great big SPOOKY Spider.  No wait, it's just a popcorn box in disguise.  This Halloween treat box is a creation that I made for the Halloween Movie Popcorn Box Party Hop.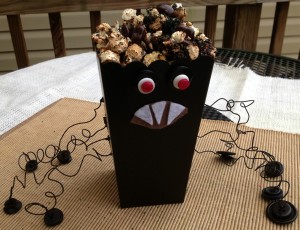 There are more than 30 popcorn boxes in this blog hop party that have been transformed into creations for Halloween.  Lots of them use buttons from Buttons Galore as each of the designers was provided with a little package of Halloween colored ones from Laura Kelly's collection.
Materials used for Spooky Spider: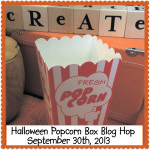 Directions for the Spooky Spider:
I painted this one with Plaid's Folk Art paint (Multi Surface Licorice) and then embellished with wires for legs and Laura Kelly's Black Beauty buttons for feet and eyes.  To get the wire into the sides, I poked holes with a sharp screw in hook.  To fill it up and make it yummy, I added a mixture of popcorn that I shook up in chocolate and black sugar.  I also added in some chocolate covered cherry Jelly Bellies to make it a little more fun.

Check out the many other fabulous projects.  Lots of them were done by our awesome Buttons Galore design team members and others by creative designers, artists, and bloggers.
Happy Popping Around,
Laura
SaveSave