Here are two really simple to make Thanksgiving card ideas using buttons from my collection with Buttons Galore.  They are so much fun that you might want to gobble gobble about them after you create your own!  I used pre-cut note cards and envelopes from my local craft store.  They come in all kinds of colors.  I also used trims that I had on hand and glue dots along with a downloadable doodle design sheet.
To make them you can draw your own pie and turkey background or you can download the template for free on my website in another Thanksgiving post that shares ideas of ways to use buttons to create some Thanksgiving fun.  You can click here to get to my blog post to get the downloadable printable or on the picture below.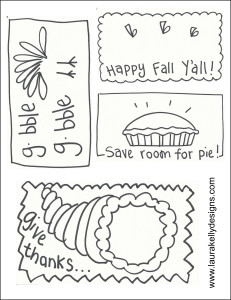 Either way, when you have you backgrounds drawn or printed, color them in and cut them out.  The next step is to use Glue Dots to add a border of some sort using whatever trim or ribbon you have on hand.  You could also use washi tape.  Then Add your cutouts either directly or mounted on colored card stock and add buttons to create the 3-D effect.  The colors I used are Outrageous Orange, Radically Red, Black Beauty, and Bold Brown.

If you want to add words to your cards you can, or you can leave them with your crafty design to speak for itself.  If you are hand delivering, add a heart and a button to the back of the envelope.  I am in love with the turkey doodle card.  Gobble Gobble.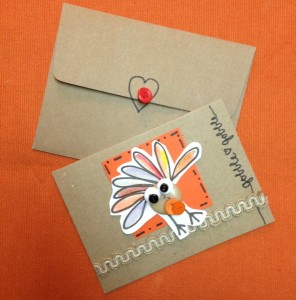 Happy Preparing For Thanksgiving,
Laura