While I love throwing birthday parties for my children, I often struggle to think of fun party favors that are also useful.  With the popularity of baking-themed parties for the tween girl set, layered jar mixes are a perfect complement to the theme, and won't become clutter later.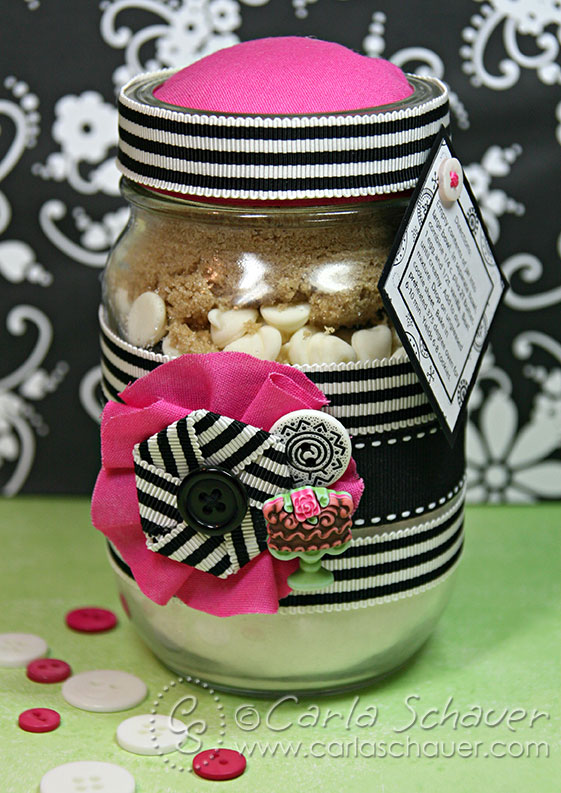 I focused on the Ebony & Ivory Trim Collage Kit to create most of this layered cookie jar, along with some bright pink fabric and the cake button from the Sweet Treats collection.  There are 12 yards of ribbon in this collage kit, so I could make several coordinating jars from one kit.
Materials:
Ebony & Ivory Trim Collage Kit
Sweet Treats Buttons
Precision Diagonal Craft Cutters
Pint canning jar with ring & lid, layered cookie mix (instructions found online try www.recipegolmine.com)
Bright pink fabric remnant (approximately 1-4"square and 1-12×1.5" strip for each jar)
Polyester fiberfill (or cotton balls)
Liquid glue
Fabric scissors
Computer printer or white cardstock and black pen
Black and white patterned paper
Black cardstock
Cut circle of fabric approximately 4" diameter.  Place small amount of fiberfill (or 1 slightly pulled apart cotton ball) onto lid, and cover with fabric circle.  Add ring and screw on tightly.  Trim away excess fabric.
Cut 1 length of striped ribbon, approximately 10" and glue around lid ring, trimming away excess.
 Cut 2 pieces of striped ribbon and one piece of stitched ribbon long enough to fit around the jar, approximately 10.5 inches, and glue into place.  Trim excess ribbon.
Accordion-fold and glue a strip of pink fabric in a circle to create 2.5" diameter folded rosette.  Glue striped ribbon and button rosette from kit to center of pink fabric rosette.

Remove shank from cake-shaped button using Precision Diagonal Craft Cutters.  Glue black and white pattern kit button to top right, and cake button to bottom right of rosette, and glue embellishment cluster to ribbons on jar base.
Print cookie baking directions onto 1.5" square tag.  Mat directions onto patterned paper (I used my own design) and black cardstock.  Punch hole in tag corner.  Thread ¼" pink ribbon through punched hole, cross through holes of small white button, and thread back through punched hole.  Tie ribbon around jar ring to attach directions.

These baking jars are easy to make assembly-line fashion, and are a fun way to send an activity home with guests after a party.  Paired with a fun apron party craft, they make wonderful, useful party favors!