These Start-Ups from Buttons Galore & More are the perfect itty bitty blank canvas for making a great big statement.  Whether an accent for a larger project or a stand-alone piece, these nifty little shapes are great for embellishing.
For my Start-Ups Challenge project, I chose the Large Tags because I thought they would make a fantastic pendant.  The holes are pre-drilled so attaching a chain or ribbon is simple.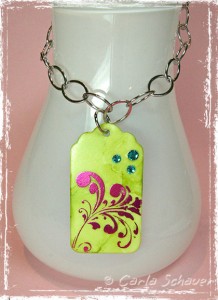 What I really like about the Start-Ups is that they can be made either complex or streamlined, depending on the project.  I chose a lettuce green alcohol ink to color the tag shape, applied with a small scrap of felt.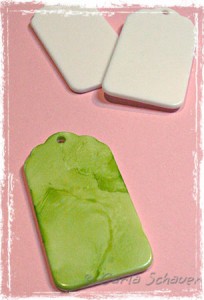 I then cut a swirl shape from a set of double-sided adhesive designs (Design Adhesives by Clearsnap) and applied one side to the bottom corner of the tag.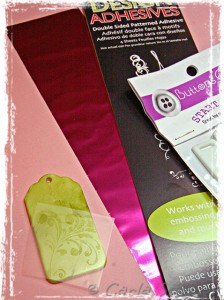 A small piece of thin pink foil (also by Clearsnap) was pressed into the adhesive design and 3 turquoise crystals were glued to the upper right corner.  If desired, a clear varnish can be applied before gluing the crystals in place.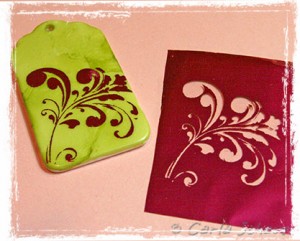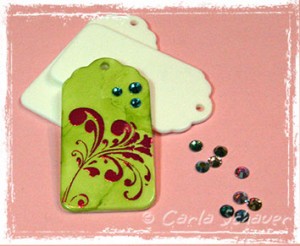 I added a 9mm silver jump ring through the pre-drilled hole, and attached my pendant to a chain I had in my stash.  I love that I can have custom jewelry in less than an hour!
Thanks for stopping by!
Carla Schauer