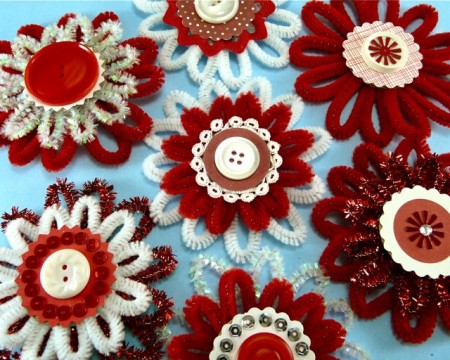 I spotted these super adorable chenille stem flower ornaments on Pinterest recently and KNEW I had to share them with you. They were created by the super talented  Diane Gilleland of Crafty Pod.
Not only are they ornaments but they could be turned into a brooch or ring to wear or even lovely package and card embellishments. Sooo many uses for such an adorable project!
Learn how to make your own Chenille Flower Ornaments with Diane's complete tutorial and pick up a Button Bonanza Christmas Bag to make plenty of Chenille Flowers for everyone!
Want a chance to win a free Button Bonanza Christmas Bag? Just leave a comment on this post by Wednesday 11/2/2011 at 5pm for a chance to win one package. We will draw a random comment and announce the winner on our Facebook page Wednesday evening.
Please be sure your email is attached to your comment so that we can contact you.
If the Button Bonanza Christmas Bag prize is unclaimed by Friday at 9am an alternate winner will be selected.
To see some of the photos Buttons Galore and More pins please visit our Pinterest Profile.