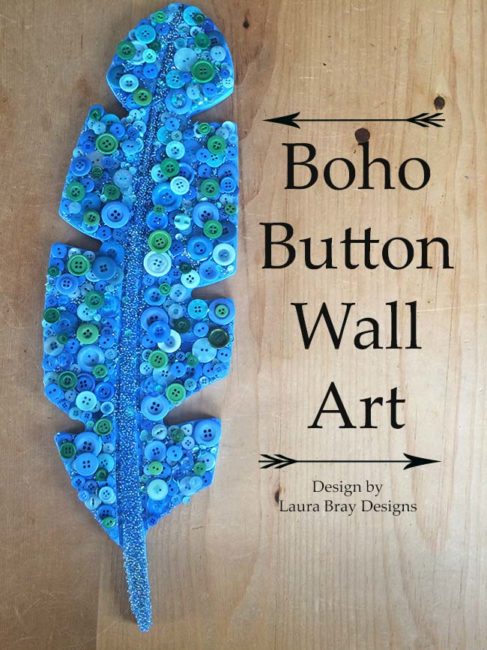 Hi! It's Laura Bray with another fun, button-themed guest blog post! The "Boho" trend is still going strong and feathers are still the rage, so for today's project, I thought I would show you how to create this unique, button-encrusted feather plaque.
Supplies:
• Winter Blues Embellishment Bottle
• Rustic Feather by Walnut Hollow
• Blue craft paint
• PVC glue
Instructions:
Paint the Rustic Feather with blue paint and allow to dry completely.
Apply a thick layer of glue down the center stem of the feather and pour mini beads over it, press the beads lightly into the glue and allow to dry completely.
Working in small sections of the feather, cover the area in a thick layer of glue, then put blue buttons, in varying sizes in the area. Work quickly. While the glue is still wet, pour sequins and beads over the spaces between the buttons. Let each section dry before moving to the next.
Once you have covered the feather in buttons, beads, and sequins, go back and glue some additional buttons on top of some areas. This helps to fill in any empty spaces as well as give the piece a bit more depth and texture.
The following two tabs change content below.
Laura Bray is a designer, writer and lifestyle expert. She inspires creative women to live a life of balance & simplicity by sharing her modern twist on traditional home arts. You can visit her on her blog at www.katydiddys.blogspot.com
Latest posts by Laura Bray (see all)