Welcome to the Stampendous and Buttons Galore blog hop!

Our contribution today is a fun card with some great Stampendous stamps, Cling Daisy Mix, and their matching dies. They pair perfectly with buttons!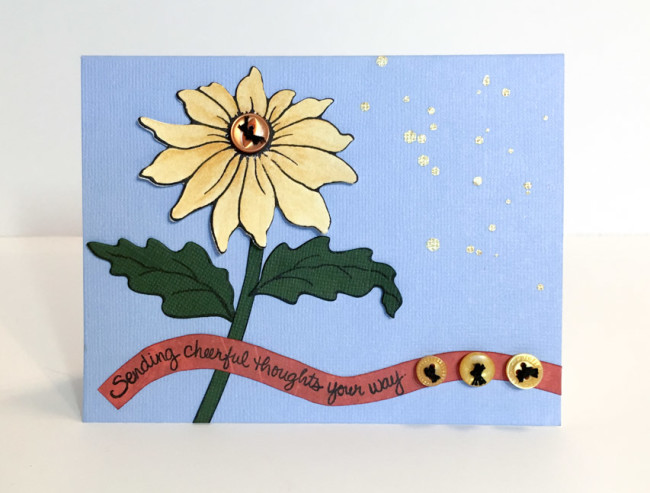 Supplies:
Stampendous "Daisy Mix" dies
Blank card
Cardstock (Dark Orange, Dark Green)
Black Marker
Needle & black embroidery thread
Gold spray ink
Ink pads (black permanent, dark orange)
Faber-Castell Gelato in Butterscotch
Water brush
Watercolor paper
This card is super simple to create!
First, splatter some of the gold spray ink on one corner of the blank card.
Stamp the flower on watercolor cardstock. Stamp the leaves on green cardstock. Use the matching dies to cut out all of the stamped pieces. Using scissors, cut a stem for the flower from the remaining green cardstock. Ink the edges of the stem.
Scribble some Gelato on a scrap of watercolor cardstock. Use the water brush to transfer it to the stamped flower and color it in, shading as you go.
Stamp the sentiment phrase on orange paper. Use scissors to trim around it, extending the piece on the end of the sentiment. Ink the edge of the completed piece.
Adhere all paper pieces to background. Thread buttons with embroidery floss and tie. Adhere to card with adhesive dots.
If you'd like to see more ideas on how to use Buttons Galore and Stampendous together, be sure to visit the blog hop at Stampendous!